Here are the recipes she shared in the episode.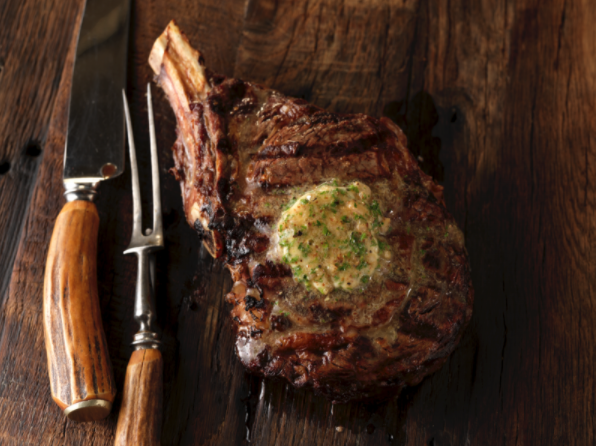 PHOTO CREDIT: Stephen Hamilton from the book, "Steak & Cake" by Elizabeth Karmel, Workman Publishing.
Bone-in rib-eyes are also known as cowboy steaks. I love grilling a big bone-in steak that is plenty enough to share—a generous one-to-two inches thick. The thickness is more important than the weight here. This extra-thick cut allows me to achieve a rich caramelized exterior and a perfectly pink interior. As the steak rests, top it with my signature "whiskey butter" to add a depth of flavor that compliments the steak without overwhelming it. Pour yourself a glass of the same whisky or Bourbon that you use to make the compound butter and celebrate!
INGREDIENTS: (Serves 4)
(2) bone-in rib-eye steaks, about 24 ounces each, and at least 1-inch thick*

Olive oil

Kosher salt

Freshly ground pepper, optional

(1) recipe Whiskey Butter (below)

Fresh parsley, chopped, for garnish

Grilling Method: Direct/Medium-High Heat
Build a charcoal fire or preheat a gas grill.

Wrap the meat in paper towels to get rid of excess moisture. Just before grilling, remove the towels and brush both sides of the steaks with oil and season lightly with salt and pepper.

Place the steaks on the cooking grates over medium-high heat and grill for about 5 minutes. Turn the steaks and continue cooking for about 5 more minutes for rare. Cook a little longer if you want the meat to be more done. The exact time will vary based on the thickness of the steak. NOTE: Use an instant-read meat thermometer to check the internal temperature. Rare is 125°F and Medium Rare is 135°F and Medium is 145°F.

Remove the steaks from the grill. Place a slice of the compound butter on each steak and allow it to rest for at least 5 minutes, but no longer than 10 minutes, before serving.

When ready to serve, spread the melted butter around on top of the steaks and place another piece of cold compound butter on each steak. Serve the steaks warm with the butter. Garnish with chopped parsley, if desired.
* When a steak is cut thin, it's almost impossible to get great grill marks and a medium-rare interior.
Whiskey Butter
The compound butter can be made up to 3 days in advance and kept well-covered in the refrigerator or freezer. If frozen, let thaw in the refrigerator before trying to cut.

Makes 1 small log (about 1/2 cup)

½cup (1 stick) unsalted butter, very soft

1small shallot, about 2 tablespoons minced soaked in 1 tablespoon Bourbon or other whisky for 5 minutes

2 teaspoons minced curly parsley

½teaspoon Worcestershire sauce

½teaspoon Dijon mustard

½teaspoon whole-grain Dijon mustard

¼teaspoon fine-grain sea salt
Fine-ground white pepper
In a medium bowl, mash or stir the butter with a fork until it is smooth and slightly fluffy. Add the shallots soaked in whiskey, parsley, Worcestershire, mustards, salt, and pepper. Mix together, mashing with the back of the fork to make sure all the ingredients are incorporated. Mix well. Taste for seasoning and adjust if desired.

Roll the butter in plastic wrap and smooth out to form a round log about 1 1/2 inches in diameter. Refrigerate until hard and easy to cut into pieces. The butter will last well covered and refrigerated for about 3 days.